.sheer goodness.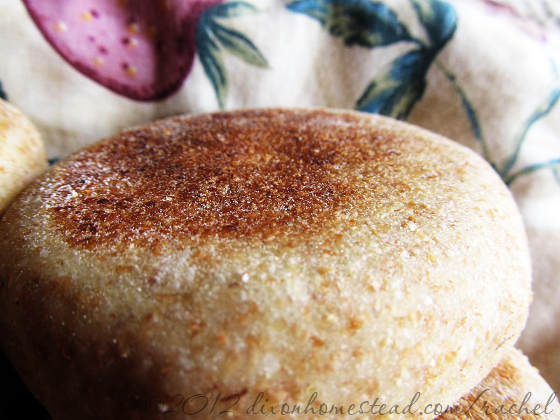 I love English muffins, and without an oven for the past, oh, say month and a half to almost two months, I've been making quite a few of them. First it was the sourdough English muffins; I actually have a better liking for those than the regular yeast ones, because I love all things sourdough! I decided to do a little researching on the whole English muffin thing when I took these photos, and found out some interesting things.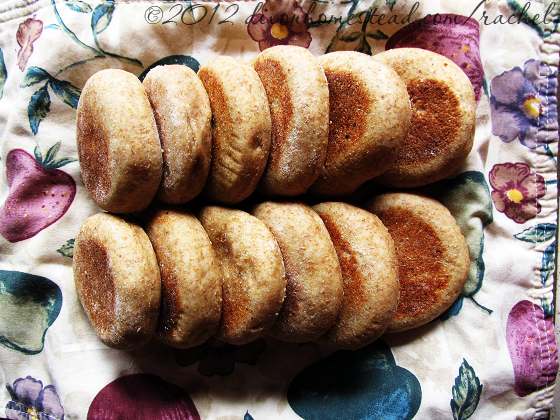 nummy nommy nummy nommy
Well, English muffins are really the American version of the English crumpet… altho some sources say that the English muffin is English and some say it isn't. So, I guess it is a disputable fact. :) I know crumets are English. Sort of like French toast isn't really from France I guess. I don't know. All I know is that I love these little round flatbreads, toasted with butter melting on top, or with mashed avocado and lettuce on tops with potatoes and eggs, that's all I know.
So here's the recipe I use for english muffins. Quick, easy and not that difficult at all. :)
English Muffins
yield – about a dozen muffins
1 package active dry yeast/k2-1/4 tsps – you could instant yeast if you wanted ton
1 cup warm water
3 cups whole wheat flour
1/4 cup shortening/olive oil/sunflower oil/coconut oil
2 tbsps. honey
1-1/2 tsps. salt
cornmeal/flour

Dissolve yeast in warm water in a medium-large mixing bowl. Stir in flour, shortening, honey and salt until water is absorbed and dough cleans the sides of the bowl.  Turn dough onto lightly floured surface; knead lightly until it is easy to handle, 5 – 10 minutes. yeah! give those arms a workout! Roll out to 1/4 an inch thick, adding a little flour as needed, and then using a floured biscuit cutter or in my way, a mason jar ring, and cut out 3-1/2 inch rounds.

Sprinkle ungreased cookie or baking sheet with the cornmeal. cornmeal here is a little expensive, and we hardly ever have it, so I use flour. just enough to prevent it from sticking while it rises, but not enough to make a big difference in the pan. Place them about an inch apart on the sheet; sprinkle tops with cornmeal. or in my case, a little dusting of flour. Cover and let rise 45 minutes to an hour. It'll be all puffy looking and you can touch it and leave a mark in it.

Heat an ungreased griddle, or if you're like me and don't own one, heat up your 10-inch iron skillet to very hot, then turn it to low. When it's all heated, put in as many rounds as will fit in comfortable to the pan. Be careful when you put them in, so as not to let much of the air that has accumulated in them out. Cook until they are a deep golden brown and then turn over and brown the other side. Serve them split, with butter or jam, toasted or not. The easiest way to split them is with a fork, so I've found.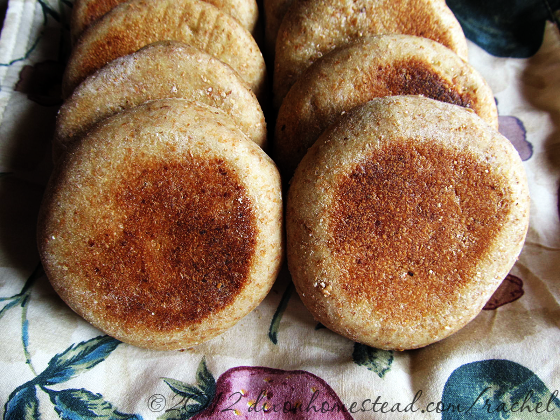 I really like flatbreads, and these, when split, are more like an actual piece of sandwich bread. You can use them for sandwiches, for egg salad, tuna salad, chickens salad, as hamburger buns, BBQ anything, or a turkey sandwich. Ok, I'm getting hungry now!!!! :)
As I hinted to above, one of my favourite ways of eating them is this: toast it until it's crispy on the outside and soft on the inside. Mash about 1/4 of an avocado, put it on top of the muffin, salt it, cumin it or add some cayenne if you want. Then, take some potato cubes, fry 'em up a little bit, then put some eggs in them and scramble them. Then, top it on the avocado muffin. I like to add some lettuce leaves to the top of it, and eat it sort of like a pizza. It is yummy yummy in my tummy tummy.
So you should totally make some of these English muffins, or the sourdough ones. Yeah. Do that. You won't regret it!
as ever,
-Ra'chel