Anyone else wanna say, NOM NOM NOM! with me?!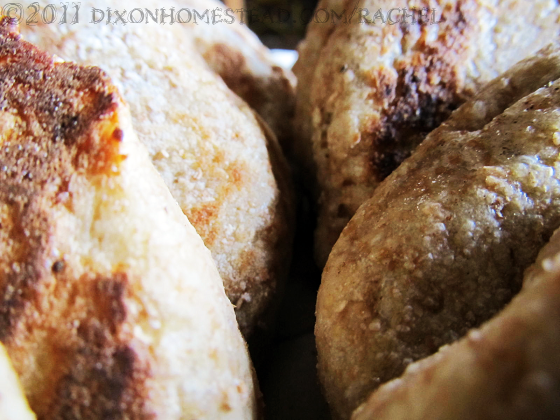 Well, I was really wanting some real bread, like what is made in the oven. Since we haven't had an oven for about a month and a half, we have been making tortillas and flatbreads on the stove. The flatbread we made were basically just biscuit dough, which is sticky, flattened and browned on both sides in a skillet. Hey, they were pretty good for about three weeks… then they started to taste bland.
I put some of Stinkamus into one of the batches of tortilla dough once, and let it set for about half an hour before I rolled them out and cooked them; they were really good! We had them for dinner, and then the next time I made them, I made some more with Stinkamus. He was enjoying it, because I was feeding him more and more and then using him. He dislikes it when I don't use him; then he starves and is stuck in the cold fridge. So he's becoming happier, and so am I, because I get to make things with him.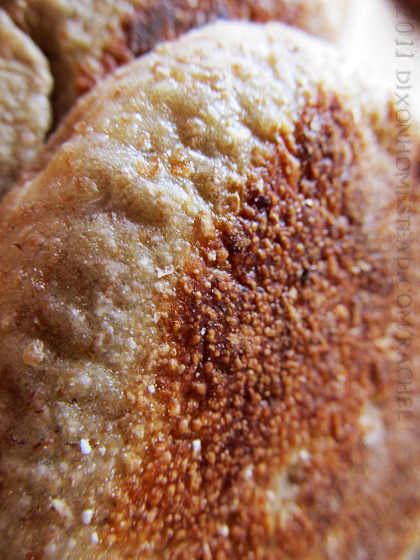 oh! delicioso!
Because I wanted some real sourdough bread, I went looking for some sourdough English muffins recipes. I wasn't disappointed by my searching; I found tons of yummy recipes! I also went searching for some other 'griddle' bread recipes, to make to give a variety, and found a couple nice ones. One of them is real Irish Soda Bread, which is actually called soda farls.
What we know of 'traditional' Irish Soda Bread is what in the north of Ireland people call wheaten. And the soda farls are a little different than the wheaten bread; one is cooked on a griddle and the other in an oven. So there, now you know the difference. :) I plan to try making some soda farls; hopefully they'll turn out as good as they look! Then, I'll share the recipe with photos for you all!
*mouth watering*
This recipe for sourdough English muffins was really good; all of my family loved them! Myself included in that loving them part. :) A.d.d.i.c.t.i.n.g. I love all things sourdough; there is just something really awesome and wonderful about sourdough breads; they are da bomb of bread. I love the tangy, soury taste of the bread; toasted with butter, it almost tastes like it has melted cheese on top of it. These muffins are totally awesome! They are a keeper!
[Whole Wheat] Sourdough English Muffins
(adapted from The Pancake Handbook)
– yield- 8-10 –
½ cup sourdough starter, fed
3 cups whole wheat flour
1 cup water
1 tsp. active dry yeast [1/2 package]
1/2 tsp baking soda
1/2 tsp salt
2 tbsp honey
cornmeal
Combine starter with 2 cups of flour and water; stir thoroughly, cover with plastic wrap [or a lid slightly offset with a towel draped over it, like me! :)] and let sit out overnight (about 7-10 hours). In the morning, add the yeast, baking soda, salt, honey to the dough and gradually add the remaining 1 cup of flour; add more if needed, 2 tablespoons at a time, until the dough looses its stickyness. Turn dough out onto a lightly floured surface and roll until about 1/2 inch thick. Use a lightly floured biscuit cutter and cut the dough into as many rounds as possible. Place rounds on an ungreased baking sheet, covered with cornmeal. Sprinkle the tops of the muffins with cornmeal and leave them to rise, covered with a clean dishtowel, for about 45 minutes.
Heat a lightly oiled iron skillet [I didn't oil mine; they didn't stick] over high heat until very hot, then reduce the temperature to medium/medium high. Cook the muffins for about 5 minutes on each side, turning only once. The muffins will reach a light or medium brown (turn town the temperature slightly if they cook too quickly) on both the top and the bottom when they are cooked through. Before the first flip, the sides of the muffin will start to look dry, like the edges of a pancake, when it it ready to be turned. You can peek at the underside, too. Cool completely before storing.

p.s. the original recipe didn't contain yeast at all but since Stinkamus was having trouble rising well, I added it in to ensure they rose a little bit. Omit it if you want.
So, there you have it! They are so awesome!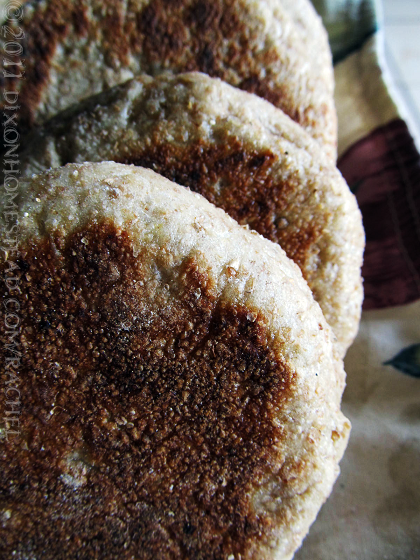 I love taking food photos. :happysigh:
Now if I just had some mora berries, I could make some mora berry jam to eat on top of them. NOM NOM NOM! But they are great toasted with butter melting of top with a hot cup of Earl Gray tea. :) Hope you enjoy the muffins if you make them!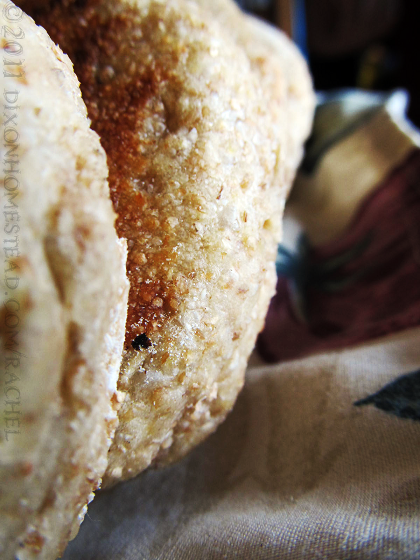 ahhh! the delight of a golden piece of bread!
Especially sourdough!
All right, stop listening to my nonsense and go make some!
as ever,
-Ra'chel
p.s. this was submitted to yeastspotting!