I got a pooch. You may have heard a bit about him… I've hinted and told you all I would post photos of him for you to see. Here's my pooch. His name is Louie. [Jocelyn insists his name is Lewis Edward Xavier Sasperilla, but it is just Louie, I promise.]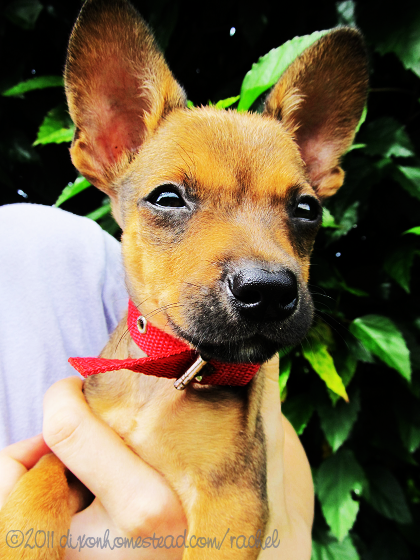 Smile, Louie!
Louie was a little runt we found with his head stuck in a pipe, as he tried to find shelter from the pouring rain. He was pretty small, but he looked old enough to be on his own. Still, we went back to where we found him [not far from our house] and looked for a momma doggie. No sign of any momma doggies anywhere.
Louie was actually just what I wanted. Ok, so maybe if I had gotten to pick his colours I would have chosen a black one… but he is a chihuahua and he's a boy, so that's what matters. Ok, here's the story, since in all my life, I've never been attracted to chihuahuas, except for their comical little faces and funny prances:
A couple of months ago, I was really missing my puppy, Blondie. She got hit by a train in 2009. She was mainly my dog, although she was the 'family' dog. I really loved her. She was a good dog… dumb, but a good dog. Our neighbours dog, her chihuahua, had just had puppies that week. I was really missing Blondie. Then something popped in my head. I wanted one of those dogs. I didn't care that it was only a chihuahua; it would be perfect. The puppy would be small, and easy to feed and take care of. Yeah, and perfect for our budget right now. So I wanted a chihuahua.
Well, I told Momma about it, and she was like, 'You want one of those?' *nods* Jocelyn had been planning and saving money to get a purebred golden retriever from a breeder not far from here, to take with her when she is married. Knowing me, I love retrievers. Blondie was one, and they are very good temperamental dogs to have with Littles and other pets. Obviously, I knew we couldn't afford to buy me a purebred golden retriever for $150 at this time, so I opted for something a little smaller.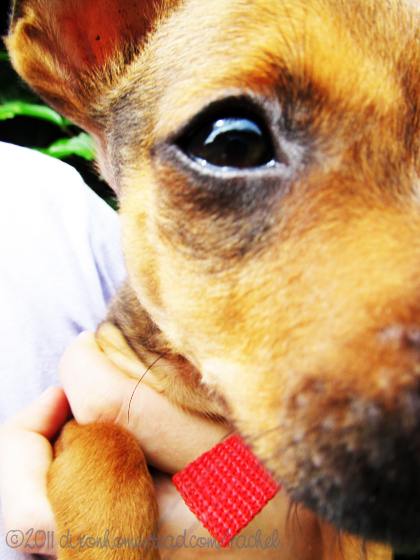 Our neighbour's dog is a purebred Chi, so that means she had purebred pups because that was the purpose of her breeding. She planned to sell them for around $80-$100 a piece, and already had a couple sold before they were even born. I didn't know how I would be able to buy one from them, and I was really hoping that maybe it would be a gift… but Abba had already gotten me a doggie. And he's just what I wanted. When Mom and Jocelyn brought him home, shivering, wet and cold, I knew he'd be mine.
Jocelyn insists on singing the song from the Jungle Book every so often, because of his name. She always sings this part:
Now I'm the king of the swingers
Oh, the jungle VIP

Oh, oobee doo
I wanna be like you
I wanna talk like you
Walk like you, too
You'll see it's true
Someone like me
Can learn to be
Like someone like me
Can learn to be
Like someone like you
Can learn to be
Like someone like me!
Momma told me when I first said his name was Louie that it reminded her of the song, "Louie, Louie". I had no idea what she was talking about until she showed me. Yeah. It's just Louie because I've always wanted a cat named Louie, and I never got it, so Louie's my Louie. I had originally thought of naming him Jack, but I'm reserving that name for the Jack Russell Terrier I'm gonna get someday. When I get another retriever, I've got a name picked out for them too. I say them because I plan on getting a pair one day and breeding them. :)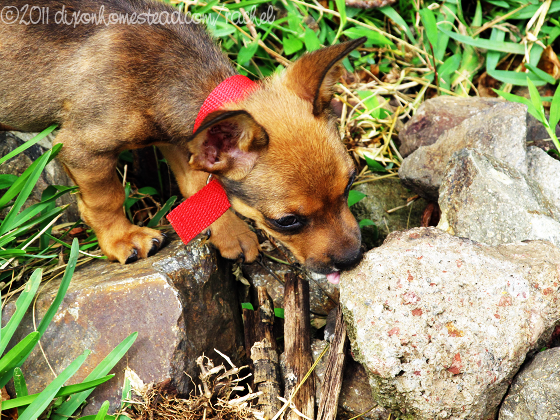 but anyhoo! there you go. now you can say you've met Louie.
He just needs a bowtie.