For My Week: Tending our new goat. Gotta find a name for her! :) Any suggestions?! Need some help here. :) Um… other things? Let's see! Cleaning, cooking, the prospect of going to spend the night with Dad tomorrow night, then to town to get some new tennis shoes [holes in the bottom don't work well in the Costa Rica rainy season, ya know]. Hopefully getting some stuff planted in the front yard, and finishing getting the goat pen finished up so it's all nice and cozy for her. Again, I'm in need of a name!
A Photo: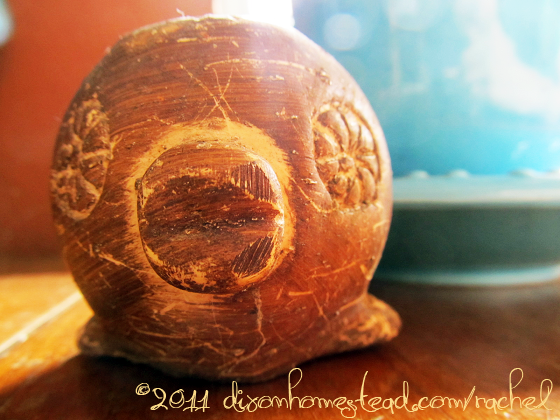 Momma's fishy planter. She's had it forever and there's a little plant in it now, which we got from our neighbour. ;) we have another planter with the other seeds she gave us in it, the blue big teacup one that Jocelyn got for Momma for Mother's Day a couple of years back. :)
The favorite thing I did: Well… got a goat. :) that's one of my favourite things!
The weather outside was: …today? It was overcast and gray, rainy and full of clouds. Rainy season in Costa Rica…
I am reading: Currently? Well, I'm still reading Pride & Prejudice by Jane Austen, and I started reading A Tale of Two Cities by Charles Dickens, but to tell the truth, I have not read much in the past month or so. I should! I love to read.
My projects around the house: Finishing the goat pen, and getting some things planted in the front lawn.
I learned about: …sunspots. Yeah, I did. "Sunspots are temporary patches on the surface of the sun that are caused by intense magnetic activity. These structures sometimes erupt into energetic solar storms that send streams of charged particles into space." /// hmm, never knew that. ;)
I made: Sourdough sesame seed bread dough, which is going to be put in the fridge to rise overnight so I can make it in the morning. I'll share the recipe when I finish with it and get photos.
I am working on: Reading more of YHVH's word. I really need to do that more often than I do.
I am looking forward to: Having our own goat! And making my sourdough bread in the morning and seeing how it turns out. :)
My Scripture verse for the week: "Trust in YHVH, and do good; settle in the land, and feed on faithfulness. Then you will delight yourself in YHVH, and he will give you your heart's desire. Commit your way to YHVH; trust in him, and he will act." (Psalm 37:3-5)
On my prayer list: Mostly myself. I know selfish of me, but I am really needing it right now. I'd appreciate your prayers too!
I am thankful for: YHVH. I love you so much, Abba, and I pray that I may be used for your glory
*smile*: "I'm always a little disappointed when I walk away from my car and it doesn't explode after I press the lock button." /// ROFL yeah, after watching The Bourne Ultimatum, then seeing this, I had to laugh. :)
Shalom and blessings!