Well! It has just dawned on my that we are nearly in the middle of May… Wow. It's hard to believe we've been in Costa Rica for over a year now. It's amazing how many things have happened in the past year, both good and bad, that I can look back and learn from. :)
I did a painting awhile back, that I had planned on maybe using for my blog template. Well, I never used it and Jocelyn redid my template to what it is now, which I love.
Just so you know, these are the verses my blog is based off of, which is why it is called A City On A Hill —->
Matthew 5:14-16  "You are light for the world. A town built on a hill cannot be hidden. Likewise, when people light a lamp, they don't cover it with a bowl but put it on a lampstand, so that it shines for everyone in the house. In the same way, let your light shine before people, so that they may see the good things you do and praise your Father in heaven."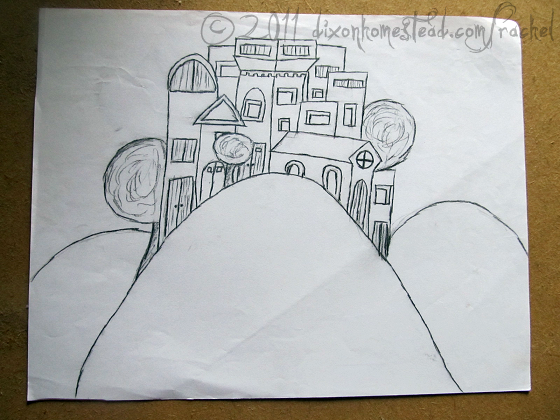 I originally did a drawing of it, which is above. :)
Proverbs 6:23
For the mitzvah [commandments] is a lamp, Torah is light, and reproofs that discipline are the way to life.

Isaiah 51:4
"Pay attention to me, my people! My nation, listen to me! For Torah will go out from me; I will calm them with my justice as a light for the peoples.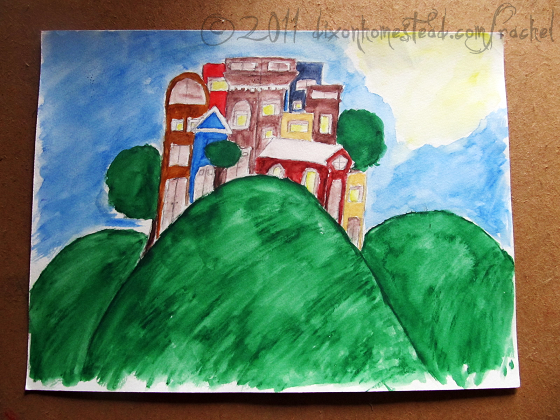 I did it in watercolours, because that's all I know how to do. :) But I like the way it turned out. I used watercolour pencils… putting that pack of unused ones I got as a present a couple years ago to good use.
Momma particularly said how she liked the way I put the colours together on the paper. I particularly like the yellow for the sun. :)
Psalm 119:105 —>
(Nun) Your word is a lamp for my foot and light on my path.
What do you like best about my painting? I'm ready for your opinions! :)
shalom!