A couple days ago, Eric and I went tramping about the property of the cabina, which is where our friends live. :) It's the Spanish word for 'cabin.' It is so beautiful up around there….. it's awesome. :) I love everything about it. Jocelyn said the other day that we were 'jungle bunnies, real jungle bunnies now.' HAHAHAHAHA!
Firstly, when we got there, Eric thought he'd test out his new hat and water the plants with it. It's waterproof. He filled it up with water…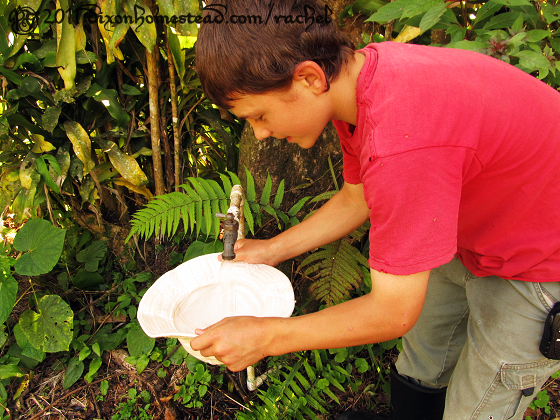 …then he poured it on the plants… :) Our tomato plants had been devastated by cutter ants, but they are growing back now that the ants are outta the picture. :)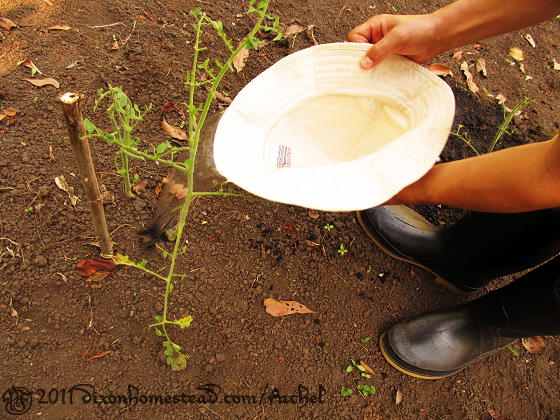 This is the BEAUTIFUL driveway to our friend's house. Is it not like a Pride and Prejudice drive??? It's so beautiful to walk along. ;)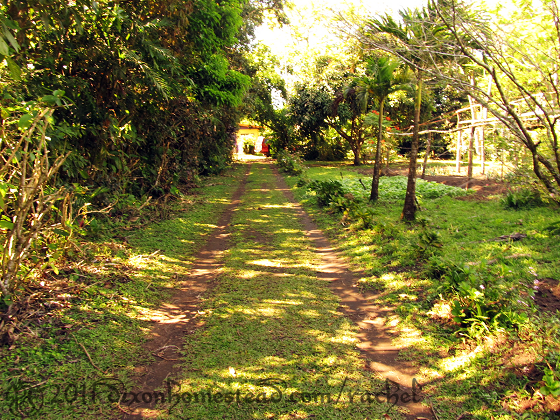 This is the corn patch. The corn is a little taller now, but the wind is beginning to blow it down… so we gotta find a way to build a block so the corn can grow. [Gale-force winds up here, I tell ya. It's terrible some days.]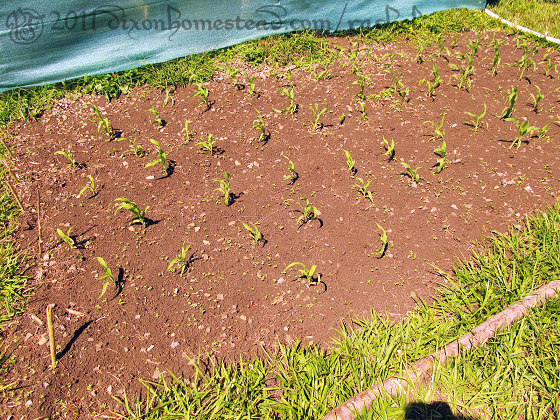 The head of the roost. Yep that's him. That's a gallo, Spanish for rooster. :)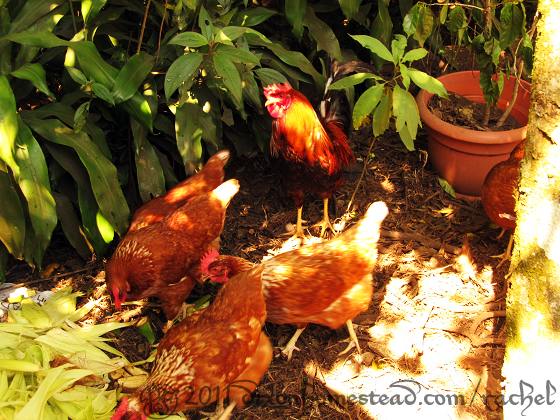 A friend told me that this flower is called Rehna de la noches.  I'll have to post some more photos of it, since I have some more, so you can see it in full size. :)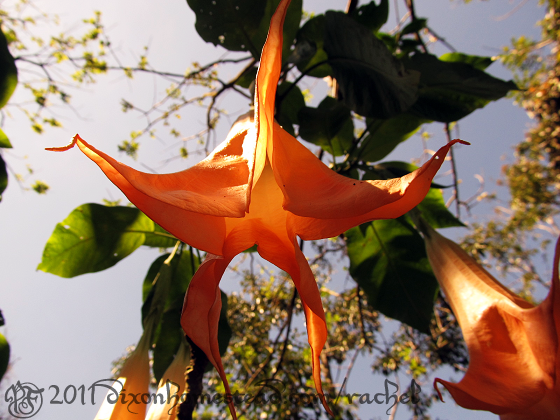 This is one of the berries from the berry bushes that are on the property. They are like a blackberry. Jocelyn's made jam with them before. We collected some for a friend, who is also going to make jam with them. There are TONS more on those bushes, and when they ripen, we're going to pick 'em all!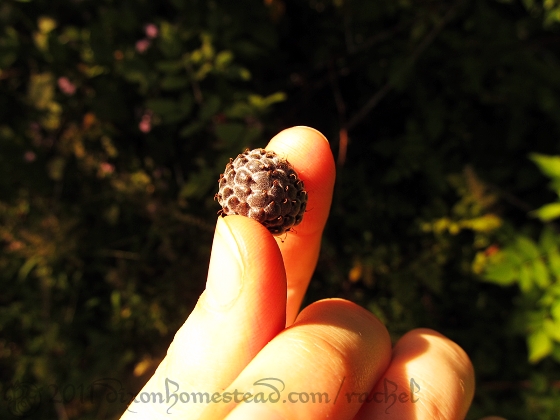 Hannah picked this HUGE-O hydrangea flower to take home to Momma. She is picking a berry right now. :)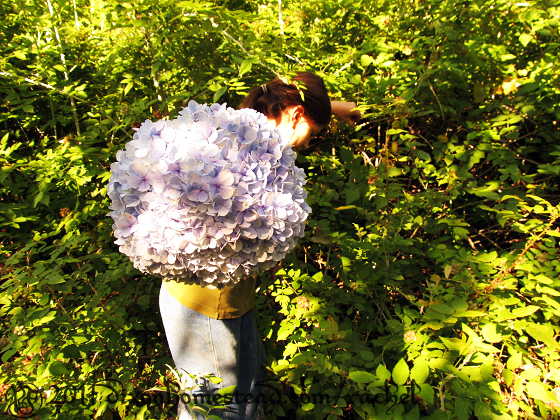 This is the view from the edge of the property. You gotta go through some of the 'jungle' to see this view. It's pretty awesome, isn't it? :)
Eric walking back from looking at the above view.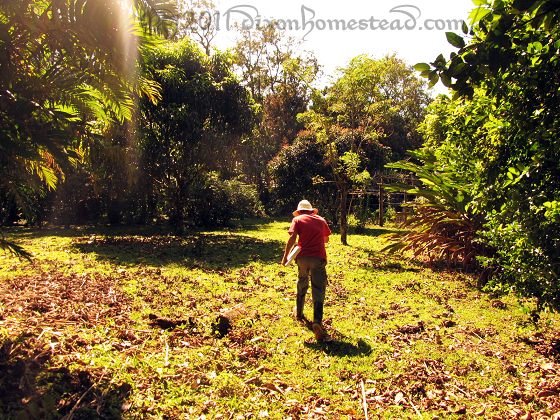 Eric and Hannah writing down some measurements.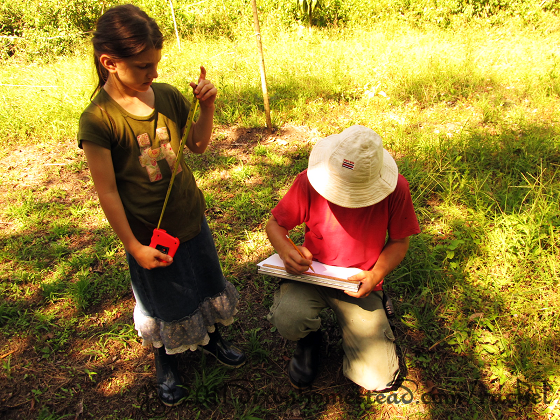 Mr. Sanchez's goat kid. He's a pretty buck, isn't he?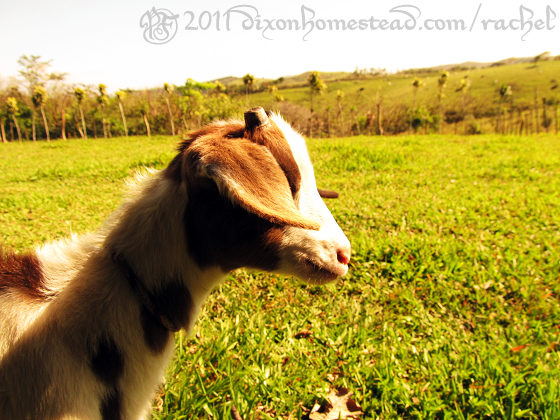 His other buck: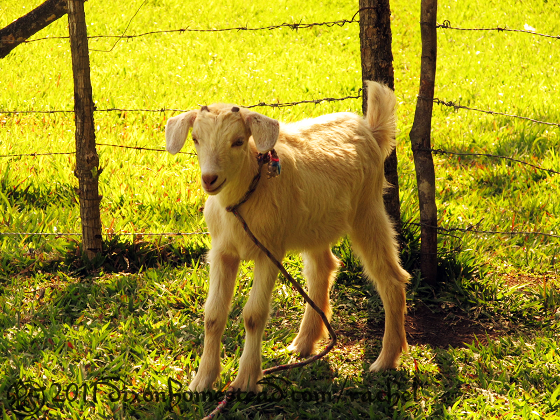 Pretty hydrangeas that line the drive from above: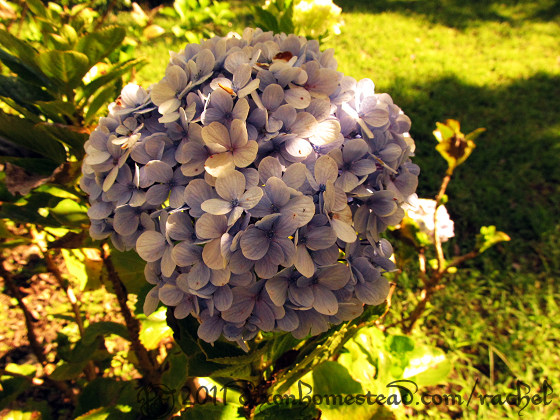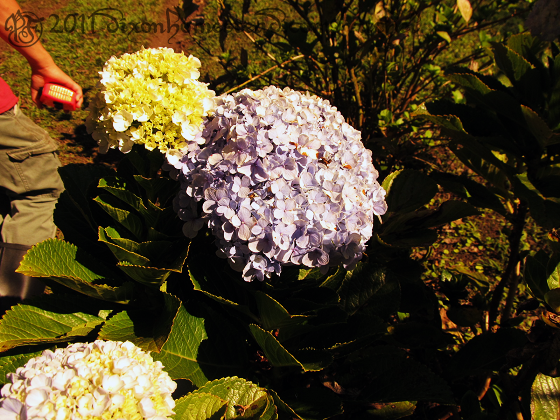 Well, that is all for now… I'll post some more soon. :)
pura vida y shalom!