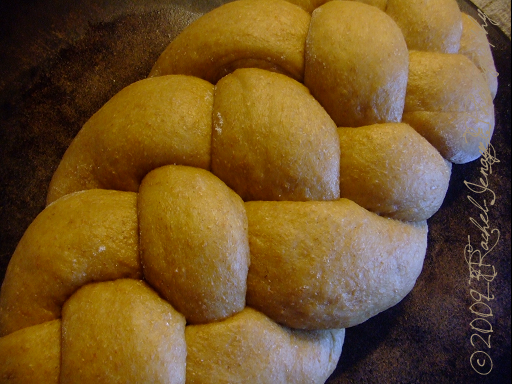 …braided and ready for the second rising…
I was looking over the recipes in the Taste of Home magazine I got from my swap sister and saw there was a recipe for challah (pronounced hallah) there. It was slightly different from the challah I usually make, so I decided to try it. The next day was Friday and so I thought it would be a good time to make it, as that is the beginning of Shabbat and when we have Shabbat dinner.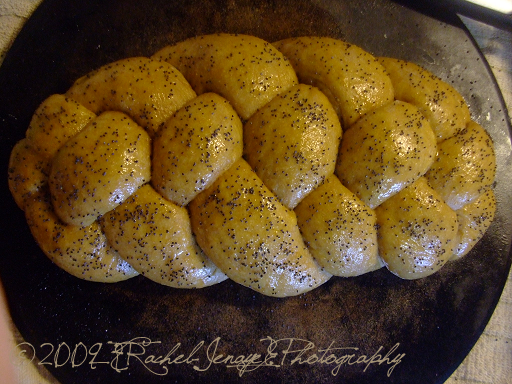 …egg-washed and read to be baked…
I also braided it a little differently too – instead of a six strand, I did a four strand. I tweaked the recipe just a little, so it's not exactly the same. But it was good. So… I'm sharing it with you!
Taste Of Home's Challah
Yield: 2 loaves (16 slices each)
4-1/2 tsps. or 2 packages (1/4 ounce each) active dry yeast
1 cup warm water (110° to 115°)
1/2 cup olive oil
1-1/2 cups honey
4 eggs
1 tablespoon salt
6 to 6-1/2 cups all-purpose flour
1 extra egg
1 tsp. cold water
Poppy or sesame seeds (optional)
In a large bowl, dissolve yeast in warm water and let proof (bubble) for about ten minutes to make sure the yeast is good. Add oil, sugar, and eggs. Mix salt and 4 cups flour and add to wet mixture. Beat until smooth. Stir in enough remaining flour to form a firm dough. Turn onto a floured surface; knead until smooth and elastic, about 6-8 minutes. Place in a greased bowl, turning once to grease top. Cover and let rise in a warm place until doubled, about 1 hour.

…close up of the egg-washed poppy-seeded loaf…
Punch dough down. Turn onto a lightly floured surface; divide in half. Divide each portion into thirds (or fourths or however many you are braiding). Shape each piece into a 15-in. rope. Place ropes on a greased baking sheet and braid; pinch ends to seal and tuck under. Repeat with remaining dough. Cover and let rise until doubled, about 1 hour.
Beat egg very well and add to it water; brush over braids with pastry brush. Sprinkle with sesame or poppy seeds if desired. Bake at 325 degrees for 30-35 minutes or until golden brown on top. Remove to wire racks to cool, then cover with challah cover and place on Shabbat table.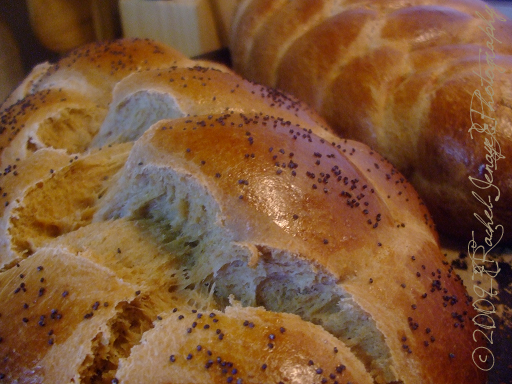 …it's finished, warm and ready to be covered and blessed…
I usually bake the challah at 325 degrees and this one had me bake it at 350 degrees. It tasted a little burnt, though so I am going to stick to baking it at 325 degrees. I'd never done a four strand braid before either, as I always do the six strand braid for Shabbat.
It was fun to learn something new about baking. It is very simple to do, almost like doing a regular braid. The dough actually split, which is weird because it's never done that to me before. But I have seen challah bread photos that do that intentionally. I didn't do it intentionally, but it tasted ok all the same. :) I'm wondering if it was the different type of dough I used.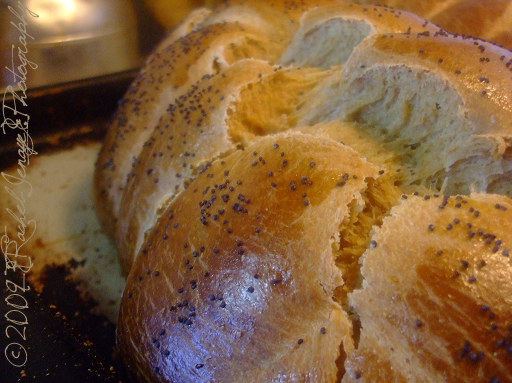 The Blessing of the Bread that is recited as it is broken beneath the cover-
Barukh attah Yahweh eloheinu melekh ha-olam,
ha-motzi lechem min ha-aretz.
Blessed are You, Yahweh our God, King of the universe,
who brings forth bread from the earth.
A couple of notes about bread making-
Have your ingredients out so that they get to room temperature before you make bread. It is better for the bread if the ingredients, especially the yeast and flour, is out at room temperature.
Salt kills yeast. Not instantly of course. But it is better to mix the salt with the flour before adding it to the yeast/liquid.
This can be made in a mixer. Just do what I did only using the mixer paddle and dough hook.
Set the oven to preheat about 20 minutes before the loaves are done with the second rising. It takes about 20 minutes for most ovens to heat to the proper temperature and it is always good to have it set properly.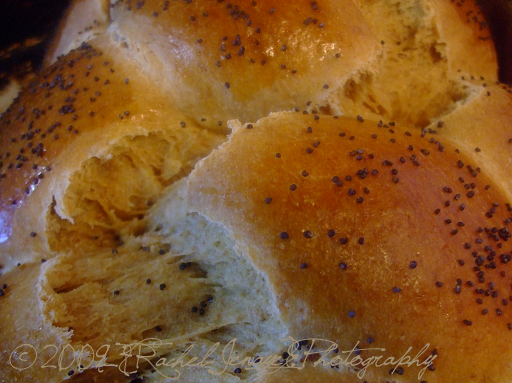 I'll have to post some photos on how to do the braids I do, as they are quite simple once you know how. :) The four strand braid is one of the simplest ones to do.