There is a special something for those who wish to read this book at the end of the post, so be sure to check that out too.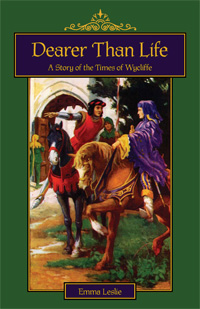 I was delighted when I was asked to do a book review for Salem Ridge Press for two of their titles. I received the two titles for review – Dearer Than Life and Gytha's Message, both by author Emma Leslie. I have only read one other book by Emma Leslie. I reviewed it for an online magazine last year and thoroughly enjoyed reading it. When I first got the book, I looked at the back to first read the summary of it to know what it was about. It was about the English Reformation, it said. It also said some things of the English reformer Dr. John Wycliffe, whom the book is mainly about. Though it is fiction, it does have a few notable characters and events in the book of the time it was written. The other most notable character was Richard II, son of King Edward.
The book was originally published in 1885. It's a nice-sized book, with a good 255 pages in it. There are a few interesting illustrations in it throughout the book as well, which is always good to spark ones imagination. I would say this book is for ages 15-adult. I don't think that younger kids would be able to understand the story or the form it was written in nor the language it's characters use. The author, Emma Leslie, was born in 1837 and died in 1909. Her actual name was Emma Dixon, and she was a prolific Victorian childrens' author who wrote well over 100 books. Emma Leslie brought a strong Christian emphasis into her writings, which you will be able to tell from reading her works. Many of her books were originally published by the Religious Tract Society. This book is also a part of the Church History which has many other works by Emma Leslie.
I found that once again the Church held an iron grip on the people. They did not let the common people read the Scriptures for themselves and made them do things which went against the Bible. I was appalled and saddened reading that the Church officials and leaders thought they had the power to give forgiveness for sins and to give out indulgences (passes for committing sins) whenever they pleased in order to bribe people to acquire information. No one could question the authority of the Church or they could become excommunicated. The main event of the time which doesn't happen until near the end of the book is the translating of the Bible into the English language. Dr. John Wycliffe and his 'poor priests' work on translating pieces of Scripture throughout the whole book, against the wishes of the Church. I've not read too much of this time period, so I thought it would be a good chance for me to get the feel of old England during this time and learn a little about the people too. The story is set in the years 1366 – 1384 A.D. It is written about a family who are friends of John Wycliffe during the time he becomes known as a doctor of theology in England. The people of England (and most of the Europe at the time) were deeply into Roman Catholicism.
The language the people of the time used and the way the book written in was a little hard for me to get the hang of understanding while reading it. Once I did, I thought it fun to speak that way. I had a hard time sounding out and speaking some of the words they used as they are not so common nowadays. Being a word-nut, and always having to know the meaning of a word, I thought it was fun to learn a few new ones and learn their meanings.
Salem Ridge Press would like to offer one of my readers the chance to win a copy of Dearer Than Life by entering a giveaway. (See below) Also any of my readers have the opportunity to purchase Dearer Than Life at a 20% discount for the next two weeks. They are also offering free shipping on all online orders during November, so if you decide to try the book, now's the time to get it. Here is the link to the special price – Specials. I can tell you, you will like this book and the others by Salem Ridge Press.
To enter you MUST visit Salem Ridge Press and tell me what other book you would want to read and why you want to read it. This is mandatory for you to enter. There are EXTRA ENTRIES below too! You can earn more entries by doing any or all of the following:
Tell me another book else you would like to read and why (1 entry)

Twitter this giveaway using this tweet [below] – (1 entry) you may enter once a day, and please leave status link in a comment

"Enter to win a copy of Dearer Than Life by Emma Leslie from @ACityOnAHill. Enter here http://tinyurl.com/yl57l6v ends 12/10 RT"

Blog about this giveaway and leave the link in your comment for me to see (5 entries leave separate comments for each entry)

Subscribe to my feedburner (located on sidebar) (2 entries – two separate comments) – you must activate your account before leaving comments for this entry

Purchase something from SRP before this giveaway ends and get 20 entries (tell me what you purchased in 20 comments)
That gives you five different ways, besides the mandatory entry, to enter. Make sure to leave separate comments for every entry. This giveaway ends at midnight on Monday, the 7th of December. The winner will be chosen and announced on the 8th. The giveaway is open to U.S. and Canadian residents.
I enjoyed reading this book very much and I'm sure I'll have as much enjoyment reading the next one as well.