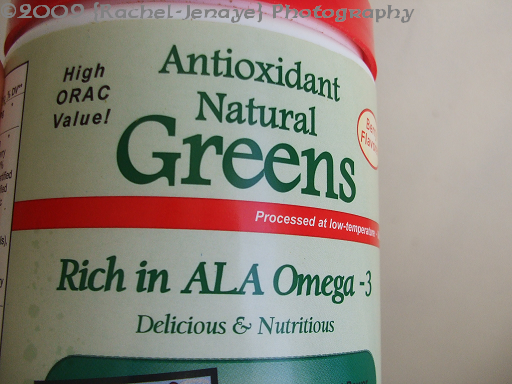 For this Tropical Traditions review/giveaway I decided on doing their Antioxidant Omega 3 Natural Greens to see how they were. Amanda had won some on a giveaway and since they had licorice root in them, (as the ones I got to review didn't) and Momma couldn't have licorice root in them, I got some so she and I could try it.
The one I got was non-licorice (as you can get it with or without licorice root in it), berry flavoured. I got it and the next evening took it to the kitchen to try. Reading how much to put in the 8 oz. of water, I poured it in and mixed. Tasting it, it was at first a weird taste to my mouth. I had never liked any vitamin drinks and this one was a little bit vitaminy. It took me a while to get to liking the taste, and I still think its a bit vitaminy, but that is just me. :)
I have not yet tasted the mint flavoured one yet, but Amanda has some and said it tastes a bit better than the berry and is not such a vitaminy taste to it. She said it tastes more like chlorophyll, which is minty. I actually like the chlorophyll to drink, so I might like the mint better. Different people have different opinions about it, I'm sure.
The texture is also grainy, and it doesn't dissolve all the way in the water, unless you stir it and stir it. As I said before, it had a vitaminy aftertaste as well. I am thinking it may be ok using it in some kind of smoothie, like a fruity one maybe. It would make sure you got it.
The benefits -
Great for Active Lifestyles
Rich in ALA Omega 3 fatty acid
Detoxification
Improves Immune Function
Provides Fiber for Better Digestion
Provides High Antioxidant Benefits
Alkalizes Body & Balances pH
Supplements Weight-Loss Plans
No Stimulants or Caffeine
Great Source of Probiotics
You can read about the ingredients it has in it and any other info you may want about on their page for it here – Antioxidant Omega 3 Greens. The offer complete, with licorice root, or without licorice root. I will have to try the mint one, and see how I like it.
Here's the lo-down on how to make the greens, since I took photos of it. :) And, the giveaway is at the end of the post, so look at the photos while you are scrolling, please. :)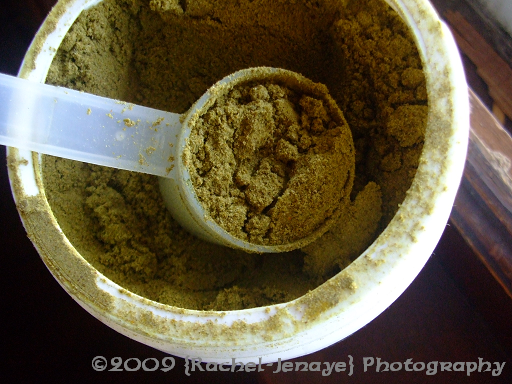 Step one – get a full scoop of the greens.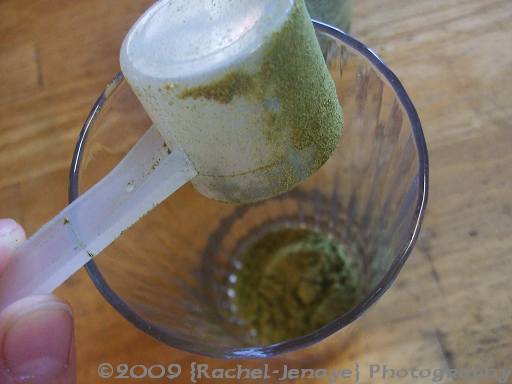 Step two – pour into a glass.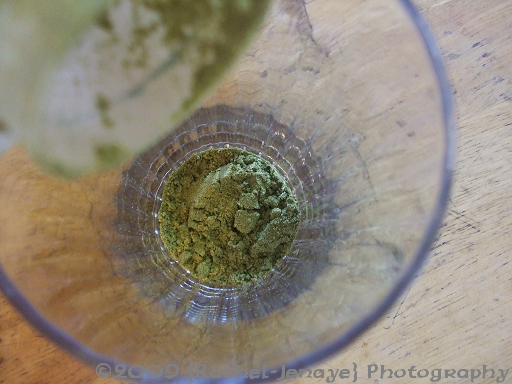 Step three – look into the glass and see how much there is. :P (This is not a necessary step, but I liked the photo I took.)
The real Step three – pour in 8 oz. cold water into the glass.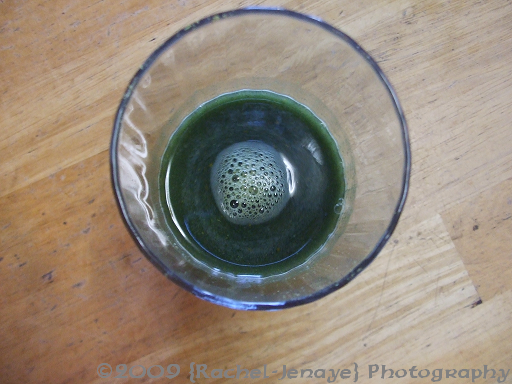 Step four – stir it all up until most of it is dissolved.
Step five – drink it all gone!
Now for the giveaway… here is your chance to win one 13.7 oz. container of antioxidant omega 3 greens from Tropical Traditions! To enter you MUST visit Tropical Traditions, subscribe to their email sales newsletter (old subs count too), and tell me what other product you would want to try and why you want to try it. This is mandatory for you to enter. There are EXTRA ENTRIES below too! You can earn more entries by doing any or all of the following:
Tell me something else you would like from TT and why (1 entry)

Follow TT on twitter – @troptraditions (1 entry)

Twitter this giveaway using this tweet [below] – (1 entry) you may enter once a day, please leave status link in a comment
Enter to win @troptraditions Omega 3 Greens from @ACityOnAHill. Enter here http://tinyurl.com/ye6dt3q ends 12/10 RT

Blog about this giveaway and leave the link in your comment for me to see (5 entries leave separate comments for each entry)

Subscribe to my feedburner (located on sidebar) (2 entries – two separate comments) – you must activate your account before leaving comments for this entry

Purchase something from TT before this giveaway ends and get 20 entries (tell me what you purchased in 20 comments)
That gives you six different ways, besides the mandatory entry, to enter. Make sure to leave separate comments for every entry. This giveaway ends at midnight on Thursday, the 10 of December. The winner will be chosen and announced on the 11th. The giveaway is open to U.S. and Canadian residents.