I find that using the KitchenAid mixer is the best for making a good elastic dough for bread making. The first bread I made in the mixer was the challah bread for our Shabbat meal. It is so easy too. I can just put the ingredients in and let the machine do the work. I have made bread by mixing by hand (which can get tiring after kneading it for so long), but I like doing it with the mixer better. I made some honey-whole wheat bread that I thought you might like to try too. So go ahead… don't be afraid to try your hand at this. You won't regret it.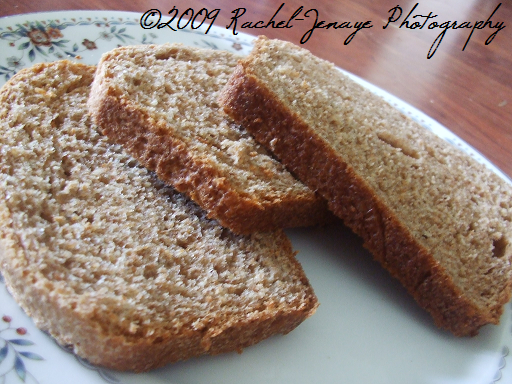 Honey-Whole Wheat Bread
3 cups organic whole wheat flour
1/4 cup organic Virgin Coconut Oil
1/3 cup organic raw honey
1 tbsp. sea salt
4-1/2 tsps. yeast
2-1/4 cups very warm water
3-4 cups organic all-purpose flour
Mix flour, oil, honey, salt and yeast in large mixing bowl; add water. Beat on low for 1 minute. Add in enough all-purpose flour, half a cup at a time, to make the dough easy to handle. Knead the dough on a lightly floured surface until it is smooth and elastic, about ten minutes. Grease mixing bowl with VCO or olive oil and place dough back in bowl. Let rise in warm place until doubled, about 1 hour.
Punch down dough, divide in half. Let rest for 5 minutes. Flatten each half with rolling pin to make a 18×9 rectangle. Fold 9inch side crosswise into thirds, overlapping sides. Roll up tightly, beginning at open end. Pinch with fingers to seal well. Press the side of your hand onto the end, sealing it. Then fold ends under loaf. Place loaves in greased (with VCO or olive oil) loaf pans. Let rise until double, 35-50 minutes. Heat oven to 375 degrees 20 minutes before baking. Melt 1 tbsp of unsalted-butter, then let it cool for a minute. Brush loaves gently with pastry brush* with butter. Place loaves on center rack. Bake until loaves are a deep golden brown colour and sound hollow when tapped. Remove from oven, and let cool in pans for 10 minutes.
*Make sure to do it gently, so that you don't let the air that has built up in the loaves out. It will flatten them. Do it gently, hardly touching the dough with the brush.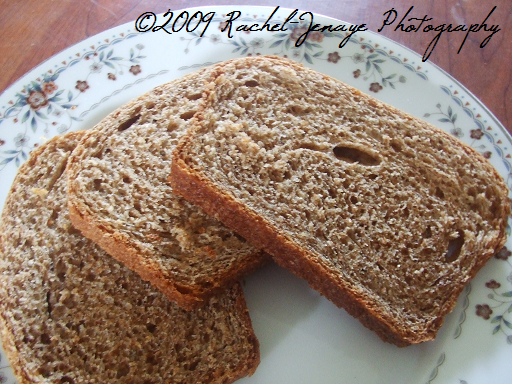 This made a very lovely bread, especially eaten with my favourite organic raspberry jam on top. You can also make this bread, with honey-butter on top, which Jocelyn made not too long ago. That bread was also quite good. It was a recipe from our friends, The Seven Sisters.