Hello and WELCOME to this week's edition of The Homesteading Carnival! I am delighted you have come by! This week's theme is The Simple Woman's Daybook. For those of you who don't know, the Simple Woman's Daybook is a weekly meme. In this edition, we have some great recipes for the fall season, tips to help on the homestead, and a little know-how's from some other homesteaders.
For Today…October 13th, 2008
Outside my Window… Well, Kathi at Oak Hill Homestead is canning some Grape Juice. She said in her post, "I used the wild grapes off the vines that are growing up into the trees behind the house." Ooh, this would be fun to try! Although, I don't have grapevines growing in the backyard. It would be fun to have them growing in the backyard.
I am thinking…that I am going to stop over at Dora Renee' Wilkerson from Knitting, Horses, And My Family. She presents Y-2K Hippie: 10/05/08. In her post, she  gives a recipe for Country Bob's Sauce for a yummy sandwich. You just gotta go over and see the picture! She also posted some pretty pictures of her horses, and gives a little about her sister's visit. And gives some pictures of the wild foods that grow on her property.
From the learning rooms… is from Sarah Scrafford from Web Design Schools Guide. She is presenting The 50 (Surprisingly) Dirtiest Things You Come Into Contact With Every Day. "The objects you touch every day are potentially loaded with nasties like fecal matter, e. coli, and salmonella. To stay safe, be sure to make a regular habit of washing your hands, be careful about touching your mouth and eyes, and avoid touching these objects as much as you can." I really enjoyed reading this one. I think you should take
a look at it.
I am thankful for… Miss Jocelyn at A Pondering Heart, who presents her Fall Favourites . As she said, "I love fall, especially here in Indiana where you can watch the trees turn to beautiful colours of red, orange, maroon, yellow, and brown." I love fall too. You can click on the button to particpate in this 'meme' type thing she started. It's really fun! I'll have to do it too some time!
Mrs. Jacque at Walking Therein has presented me with a list of her Fall Favourites in These Are A Few Of My Favourite (Fall) Things. I love Fall just like her – "I love fall, and in Indiana you can watch the trees turn from green to their pretty colours almost overnight. I am just hoping that Fall sticks around long enough that we don't bypass it altogether and slide right into the Indiana winter!!" Stop by her blog and see what her favourite things about fall are. :)
From the kitchen…mom2my9 from 11th Heaven's Homemaking Haven presents a delicious Pumpkin Pie. She gives a step-by-step recipe, with pictures. Because you know, "With Thanksgiving right around the corner, I thought I'd post my favorite pumpkin pie recipe. Not only is it frugal, it's feminine! Here's what you'll need…" I do believe she is right!
Also, Miss Monica June at Cooking with MJ presents us with her Italian Basil Tomato Melt. She said that "this is a recipe my mom came up with and I learned how to make this week. We are calling it the Italian Basil Tomato Melt." It looks yummy! And looks very easy!
Miss Sharee at A bit of flour presents A Good Dip for bread. Man, I will have to try this recipe! It sounds so good!  She said, "After all my sandwich making adventures, I was looking to do something different with the last of the French bread on my counter. French toast was an option but I wanted to do something special." She came up with a yummy-sounding dip I think you should take a look at.
Another great recipe from Miss Amanda at The Daily Planet. She presents us with her Homeschool Memoirs: Snack Foods. "I have to say that I really am a huge snack food person! I love snack foods! I especially love the snack foods that we used to make when Mama sol Creative Memories and we would have scrapbooking workshops. We made some good snacks! So here are some of my favorites." Miss Amanda gave a list of yummy snack foods she likes, and also some links for a couple of the recipes used. You should go check them out!
We have another recipe from Miss Emily Rose at Simply Vintagegirl Blog. She gave me a recipe for Apple Recipe – Apple Pie. I have actually never had apple pie, but this one looks so good! She gives a step-by-step recipe, with a couple of pictures. This is a perfect fall dessert for gathering around the hearth. "This recipe is simple to make and a perfect desert when having company!"
So far, the kitchen is getting pretty warm isn't it? Fall is really in the air! And if you have a garden, you know what that means – harvesting your vegetables!
Like what Mrs. Stephanie at Stop the Ride! did with her beets. She presented me with how to Stop the Bleeding (or how to cook beets). She said she "lovesthe beautiful red color of beets. Boiling them in water produces a wonderful natural dye, but unless I am creating a dye, I'd rather that pretty color stay right in my food." I am not a beet fan, but this would be a neat recipe to try out. If you like beets, go over and check it out!
Stephanie at Make It From Scratch presents Homemade Stuffing. This would be a good recipe to check out, as Thanksgiving is coming up soon. "Stuffing (or perhaps you call it dressing) at its most basic level is simply moistened bread and spices mixed together and baked. Making a basic stuffing is good, but what makes a stuffing great is the little bits of meat or vegetables that you add in." I'll have to try a couple of these recipes, and see if we like them!
Oh, we can't forget what Tomato Lady at Little House in the Suburbs presents- Roasted Poblano Peppers. She did a little research on peppers, and found "The heat of poblanos varies from medium to hot. Mine are hot." I love eating peppers on tortillas, especially with beans and Spanish rice! yumo. Check this recipe out to find out how to roast them.
The last recipe to end the cooking/baking from the kitchen is from HowToMe at HowToMe, which presented How To Bake An Elegant Persimmon Pudding. "Last week, a dear Aunt shared a recipe for Persimmon Pudding that both she and her mother liked very much." I have not had this before. I will have to try it some time. If you want the recipe, go to the post and get it!
I am wearing…a different coloured brown-yellow-orange skirt (perfect for the Fall right?) and a pink shirt. Not matching I know! And socks to keep my feet from catching a cold. :)
I am reading…the Bible – I read Numbers 28-30 today for my Bible Reading Challenge. I am STILL (but almost done with it!) reading Journeys of Faithfulness by Sarah Clarkson. I just finished reading Andrea Carter and the Dangerous Descision. I very much enjoyed reading it, and more than once held my breath. Very good book. I am reviewing them for GGM in November. I will also be interviewing Mrs. Marlow in the book review. Be sure to stop by the site for it!
I am hoping…that everyone liked this edition of the Canival! Did you? :)
I am creating…
Well, not me, but Mrs. Katie at Making This Home is! She gave me a very neat entry – How to Customize Your Door Mat. What a cute thing she has made – her very own personal door mat! *Chickens* even! She that "It's a good thing our door mat was safely out of harms way; it was drying.  Now it's in its new home, and we're loving the welcome feeling it's already bringing." You can find out what she did by going to her blog. :)
I am hearing…Luli laughing, Amanda and Momma talking, and the fan behind me whirring. Unusually quiet…. peaceful, almost!
Around the house…Since it's 2am in the morning, it's not too active. Luli and Caleb are playing… Momma is working on stuff on her laptop.
One of my favorite things…to go and read all the entries that everyone put in for the Carnival. :D
I am praying for…Drews Family TX. And for Kinley – she has a tumour. They don't expect her to live very long.
A Few Plans For The Rest Of The Week…get the goat and chickens stalls cleaned out, get my GGM articles done for November, get my room cleaned up, get all of the drafts I have on here posted or outta there!
I accomplished since last week…nothin' really… I read the last of the book I am reviewing for GGM. THAT is a GOOD thing!
Here is a picture thought I am sharing with you...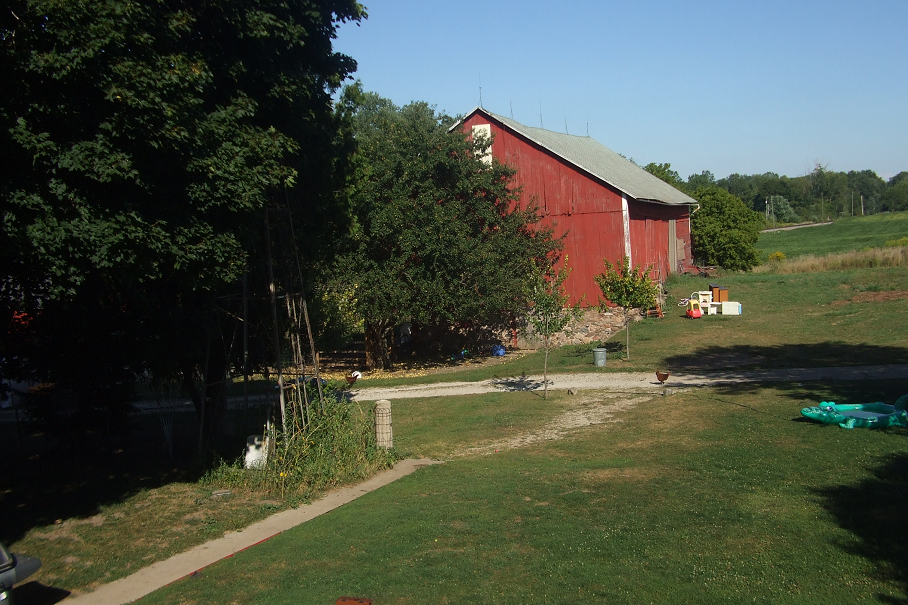 A picture of our barn mostly, but a lot of our homestead. This is looking out from the new part window.
For Guidelines of this meme, visit The Simple Woman .I hope you will join me! If you posted your own Simple Woman's Daybook! I really love doing this meme. :)
I hope you enjoyed this week's Homesteading Carnival. I enjoyed looking and reading all the posts, and putting this together for all of you. :)
Matthew 5:14 Ye are the light of the world. A city that is set on an hill cannot be hid.
I hope you have enjoyed reading the thoughts and happenings of a fourteen-year-old girl from the country. "You can do all things through CHRIST who strengthens you!" Philippians 4:13