Today is my dear friend, Sarah's birthday. So in honour of her birthday, I am going to post a little something for her. :)

First things first, of course the birthday song -
Happy birthday to you!
Happy birthday to you!
Happy 18th Birthday Dear Sarah!
Happy birthday to you!
I wrote you a poem, Sarah. It's not all that good, but it's the I could do. :)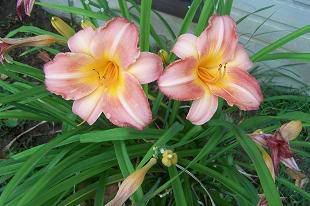 You are such a pretty girl,
With your hair all a-curl,
Your eyes are so bright,
They could bring the nightsky alight,
Your smile is so sweet,
None could could it beat.

Your gracious manner so genteel,
Like the Lillies of the Field,
You would bend over backawards to please,
You would go with sleep to ease,
You could move a mountain by your love,
That comes from Heaven above.

This is just a poem to say,
Have a happy birthday,
And know there are people out there
Who really care.


You are as colourful as these beautiful flowers you love. May you have the best of birthdays today. If I could be down there celebrating it with you, I would! But, here's a hug from me, and I want to know that I am there with you in spirit.
I'm so glad we are friends, Sarah.
With much love,
Rachel